We Take Care Of Our Students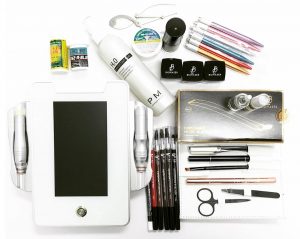 Once you finish our PMU and Microblading training, you are ready to go. We offer our students a complete, thorough, hands on, realistic training experience designed to allow them immediate confidence with their own clients. Our "after graduation support" is the best anywhere! Our full line of PMU supplies will allow students to keep their own offices stocked with the best supplies available.
Supplies You Need For Your Business
Our full line of PMU supplies will allow students to keep their own offices stocked with the best supplies available. When you order from us, you will get exactly what you need to keep your business running. We have professional permanent makeup kits & pigments which include lip pigments, microblading pigments, scalp pigments and makeup colors. We also can get you PMU Machines and the right needles and PMU cartridges. And that's not all, we also provide Before and after care products including topical anesthetics. And, as you know by now, microblading is not a job, it is an art, and we have all the permanent makeup tools and accessories you will need.
Order now: https://dinarichardson.com/shop/
Why Trust Dina
Dina has not only many years of experience in the permanent makeup and microblading,  she also holds certifications in permanent makeup from East Asia, Central Asia, Eastern Europe and the U.S.
Dina has been involved in art for many years, with her emphasis on portraits for many years. She has an excellent eye for facial features, bone structure and artistic beauty.
"You need artistic skills to be able to know the face of the client, probably better than they do," Dina says. "Once a real artist, he or she already knows exactly what would make it look the best," she added.  Dina is a true artist, sees the strengths and the flaws in every face and knows how to work with them so you can look your best. Take a look at Dina's amazing portfolio: https://browdesignbydina.com/photos/
When you take Dina's classes,  you learn everything that you need to know to start your own permanent makeup and microblading salon. As a matter of fact, after only 18 hours of training, you are ready to start your own microblading and permanent makeup career. Dina will teach you what equipment you need, how to design lips, brows and eyeliner, how much pressure is needed while applying the color  and much, much more. Best of all, if you have questions, Dina will be there for you and help you out.
For more information, visit: https://dinabasman.com/