Master Microblading and Shading Training Course
The Dina Richardson Master Microblading and Shading Training Course is the perfect course that offers two separate certifications. This training course does not offer any previous PMU experience. It is a two-day hands on training course. Each class is very small with only groups of three students at a time. This special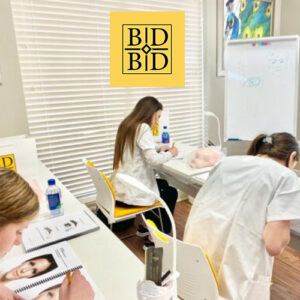 training program is designed specifically to help students prepare to open their own PMU businesses.
"We understand that just because you have a "Certificate of Completion" it does not mean you will feel comfortable opening and running a Permanent Makeup business of your own! We have designed a special training program specifically to make our students ready for their own shops, " says Dina Richardson.
Dina will show you how to be successful in your own business by showing and teaching you everything she has learned throughout her career. You will experience Dina working with her own clients, reviewing medical forms, answering client questions, evaluating skin conditions and watching Dina design her famous virtual eyebrows on her clients, Dina's selling secret. Our training program will teach students all aspects of the PMU business and not just how to deposit color into the skin.
Microblading introduction
Color theory
Methods for choosing color
 – Fitzpatrick scale
– Skin undertone
– Hyperpigmentation
Structure of the skin
Skin conditions and factors affecting microblading procedure
Eyebrow anatomy
Math, symmetry and beauty
Styles of brows
 – Five (5) eyebrow styles

Brow shaping
Three (9) different hair stroke patterns
Hair stroke step by step
Introduction to microblading tools
Types of needles
Needle technique
Procedure step by step
Equipment and sanitation
Treatment area set up
Patient management
– Conversation with client
– Client consultation
– Client preparation for procedure
Intake and patient forms
– Pre-appointment form
– Medical history form
– Before care form
– After care form
– Consent form
Business model and protocol
– How to start and run a successful office
Master microblading manual written and designed by Dina Richardson
Master microblading practice book designed by Dina Richardson
Master microblading kit for 50 clients
Plant based organic pigments (4 bottles)
Professional microblading waterproof pencil (Brown)
Professional microblading pencil (White)
Golden Ratio stainless steel eyebrow measuring tool
Professional eyebrow measuring caliper
Microblading silicon skin
3D mannequin head
All client forms
– Pre-appointment form
– Medical history form
– Before care form
– After care form
– Consent form
PLEASE NOTE:
– All listed supplies are intake supplies.
– During the training we provide our students with all necessary equipment and supplies for the class training and hands on training.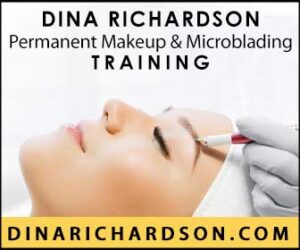 What to Expect:
We require $1000 deposit to hold your spot in a small group of 3 students. Remaining balance must be payed two weeks prior your class.
We accept deposits and payments over the phone during business hours Monday-Friday.
After we receive full payment we will mail your study manuals with our exercise book designed by Dina Richardson.
We will provide you with directions for what to do with your manuals during the two weeks prior to you starting your class.
The next class start August 23-24 and then in September we offer September 13-14 and September 27-28.